Hexa R-Connect VDI ( Virtual Desktop Interface)
Hexa R-Connect VDI is a form of desktop virtualization, as the specific desktop images run within virtual machines (VMs) and are delivered to end clients over Internet.
Server can be accessed from anywhere through browser on any device like, PC, Thin Client & Mobile without any specific installation on local device.
Get the benefits of hosting desktops in your datacentre without the hassle of Remote Desktop Session Host (RDSH) / Terminal Server.
No Static IP Required on either end & No Need to migrate any data to cloud.
Compatible for, Project Management Tools like Clarizen, Kissflow Project, Trello, Asana, Zoho, Wrike, Monday.com, Proofhub, Airtable, Kanban, Jira and many more.
Applications like SAP, ERP, CRM, Accounting Software, Software Development tools.
Minimize your ISP reachability issues, connectivity issues, latency issues seamlessly.
No configuration required on either end (server, end user).
Supports Active Directory (ADSI) user authentication.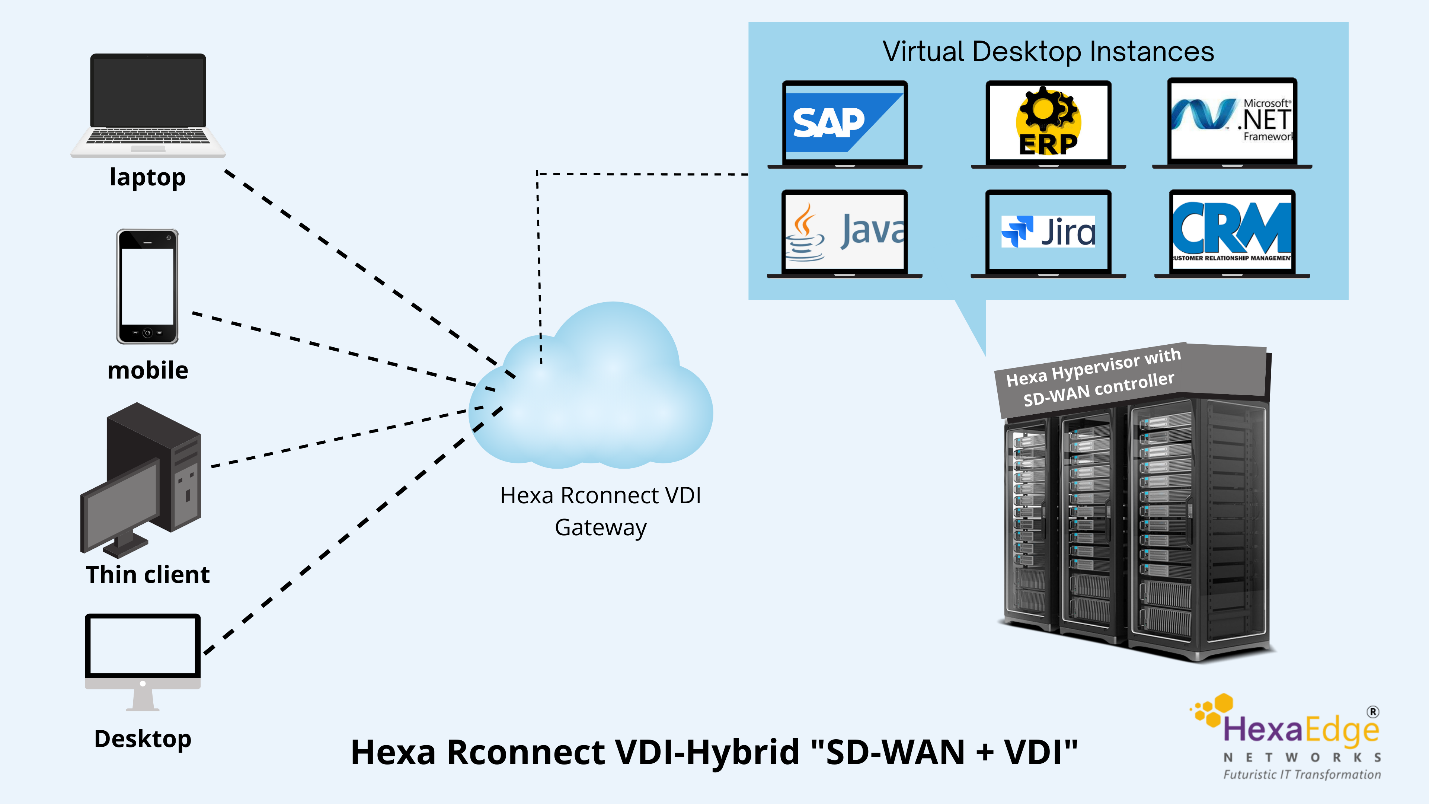 Hexa Rconnect-VDI Components
Hexa Rconnect-VDI-Hypervisor
VDI Hypervisor cum SD WAN Controller is a Software Service which needs to be installed on Application Server (Windows)
Hexa Rconnect-VDI-Gateway
VDI Gateway is installed on the HexaCloud to have dedicated, private, highly secure SD-WAN tunnel which enables remote user account creation for VDI end users.
Hexa Rconnect-VDI Features
No Static/ No Public IP required on either end

Makes this more secure as all the connectivity is deployed on private IP Network.
Encryption

It has integrated AES 256 Packet Level Encryption that makes it more secure. Data from PLCs is encrypted while transferring through tunnel, which makes sniffing impossible.
Highly Secure]>

7 layers of SSL Certification and No Static IP/ No Public IP.
Scalable

Easily scalable. No skilled IT person required.
Quick Deployment

Software based solution which can be deployed in minutes
Affordable

No need to use expensive cloud services from third party
Device Independent:

Use any device like laptop, thin client or mobile
Highly Secure HTTPS:

HTTPS domain based secure application access anywhere anytime through browser.
Supports ADSI/Domain Extension

Support remote user authentication through Active Directory/Domain Controller
Controlled Data Access:

Remote user can not copy and paste on local machine